Math Resources For Children From Preschool to 8th Grade

Pre K Math Resources

Kindergarten Math Resources

First 1st Grade Math Resources

Second 2nd Grade Math Resources

Third 3rd Grade Math Resources

Fourth 4th Grade Math Resources

Fifth 5th Grade Math Resources

Fifth 6th Grade Math Resources

Seventh 7th Grade Math Resources

Eight 8th Grade Math Resources
Preschool/ Kindergarten/ 1st Grade Math Resources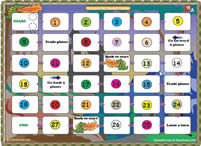 . >>>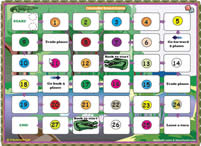 .Dragon Board Game PDF ....... >>>Croc Board Game PDF Printable
The dragon fire & Croc board games are fun games for educators. There are traps, pitfalls and escapes in this game. The dragon's fire or the croc's head represents the biggest single threat to the players. Landing on a dragon or crocodile space sends a player back to start.
How To Use These Board Games / Rules
Find two chips for two players and place them at the 'start' space.
Prepare a worksheet with questions numbered 1 to 27. For classroom purposes, use a board or powerpoint for better presentation.
Roll the dice and count ahead according to the number that shows up.
When you land on a space, answer the question number on that space. e.g. if you land on space number 4 and question number 4 on the worksheet / powerpoint is 3 x 3 =, simply say the answer 9.
The instructions on the other spaces are pretty straightforward.
The dragon / crocodile space is the space no one wants to land on. They are killers. Landing on this space sends the player back to start. Restarting is no fun when your opponent is advancing.
Trade Places : This can be good or bad. The player who lands on this space swaps with the opponent. Trading places with an opponent who is ahead in the game is good. Trading places with an opponent who is behind is no fun.
Finally the last pitfall is towards the end of the game. To finish the game, the player must get the exact number on the dice to END. If the player has more, the player has to count forward and backwards. For example if a player is at space 26, the player needs to roll and get 3 to finish. If the player has 6 for example, the player counts forward to 3 and 3 backwards to space 26 again.
Printable Worksheets by Topic

Exercises Online by Topic

Set 1

Set 2

Set 1

Set 2